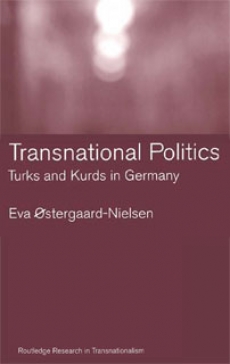 Transnational Politics: Turks and Kurds in Germany

Modern communications make it easier for all types of migrants to stay in touch with their country of origin meaning that migrants' transnational engagement is an increasingly important and relevant topic. Transnational Politics shows how the politics of one country, Turkey, plays itself out in another, Germany, through the presence and engagement of migrants and refugees.

This book offers a unique case study of transnational political engagement of Turkish and Kurdish migrants and refugees in Germany and the political impact of these at national and international levels. Turkish and Kurdish organizations in Germany not only mobilize in relation to immigrant political issues of equal rights, discrimination, and citizenship in Germany, but also in relation to the domestic and foreign political situation in Turkey. In this way they become a linkage group between Turkey and Germany.

The case of migrants and refugees from Turkey to Germany is in many ways paradigmatic for how migrants' transnational practices occur and are perceived in a European context. This book will be of value to readers with an interest in the politics of international migration and migrant transnationalism and in the ways in which migrants themselves challenge and contribute to processes of democratization in both their country of origin and settlement.