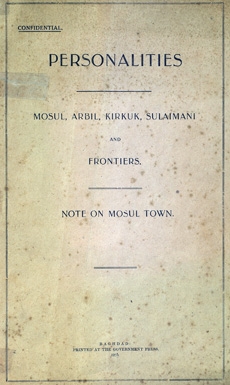 Personalities: Mosul, Arbil, Kirkuk, Sulaimani and frontiers. Note on Mosul town
Mosul town

The chief families in Mosul are: -
1. Bait al Julili, see Sulaiman al Jalili.
2. The `Umaris, see Rashid al `Umari. These trace their descent from the Khalif 'Umar al Khattab. Their most eminent representative is Hadi Pasha, living in Constantinople. His name rias mentioned as a possible candidate front the Amirate of 'Iraq, but lie is very old and seldom leaves his bouse.
3. The Sada, whose heand is the Naqib al Ashraf. At present they are in rather a commanding position in Mosul.
Nos. 2 and 3 are generally in opposition to each other.
With regard to recent political movements, in August, 1920, 'a maulud was field at the Nabi Jirjis mosque at the termination of which forty members to represent Mosul were elected in order to present their demands to the Government. Manv of the Forty elected had no knowledge of what was intended and joined after consultation with the P.O. No doubt it was intended that the presentation of the demands should be attended with the same discrders as occurred in Baghdad. That however was averted, and by the loyal co-operation of soma of the Ashraf, the committee of the Fort- was, in a very short time, reduced to impotence. It is fairly certain that the maulud was occasioned by the orders of the Baghdad extremists to the Jami'at al Ahd in Mosul. The local leaders of the Ahd are:—
Dr. Daud Chal'labi.
Yasin al 'Uraibi.
Muhammad 'Arab.
Mustafa ibn Haji Husain. Mustafa. al 'Umari.
Sa'id ibn Haji Thabit.
Most of the leading Ashraf are very large landowners who hardly ever visit their villages. In the last winter of the war mort of them amassed large fortunes by holding up grain. Ten thousand people are laid to have died of starvation.