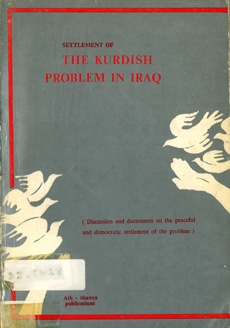 The Kurdish Problem in Iraq

Ath-Thawra

Compte d'auteur

Lately, talks began between representatives of the Arab Sa'ath Socialist Party (ABSP) and the Kurdistani Democratic Party (KDP) to study the problems and obstacles encumbering the progress of the peaceful and democratic settlement of the Kurdish question and marring relations between the two parties.

These talks are characterized by frankness and explicitness. It is indeed our belief that telling the whole truth to the masses, and acquainting them with all points of view pertaining to the difficulties and matters at issue, will greatly help bring these talks to a successful end. This will also help elevate the talks to the serious standard dictated by the nature of past experience and by the imperialist and reactionary menance converging on the homeland and on its militant national and nationalist forces. Furthermore, such an attitude will, eventually, promote the talks to a mature level that is compatible with the magnitude of the general responsibilities entrusted to both parties. Hence, keeping the people informed of all developments is a prerequisite to enabling them play their natural role in maintaining peace, cementing national unity and in defending their progressive and democratic gains.
.....