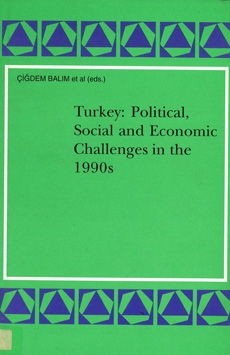 Political, Social and Economic Challenges in the 1990s

Çiğdem Balım
E.J. Brill

With the Cold War behind us, Turkey has emrged as a major economic entity and an important partner for discussions of advancement and progress for the region. Turkey: Political, Social and Economic Challanges in the 1990s explores minutely in 14 chapters the interaction between domestic structural variables and the changes in the external environment to predict future developments for Turkey. The authors are well-known specialists in their fields and policymakers, whilst the data are as up-to-date as possible in this world of regularly changing figures.

Brill's Social, Economic and Political Studies of the Middle East series is designed to present the results of scholarly research into social, cultural, economic and political conditions in the Middle East today. It covers the past only insofar as it provides an introduction to the twentieth century. The series includes monographs, collaborative volumes and reference works by social scientists from all disciplines.


---

Çiğdem Balım (Ph. D., University of Washington) teaches in the Department of Middle Eastern Studies at Manchester University. She specializes in Turkish Studies and coordinates the Research Group on Central Asia and the Caucasus.