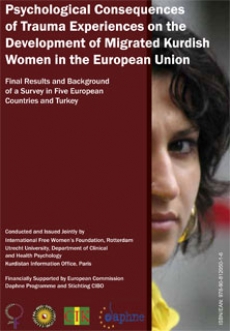 Psychological Consequences of Trauma Experiences on the Development of Kurdish Migrant Women in the European Union
Due to courageous efforts of many women rights activists and women's organisations, many unmentioned taboos in the context of violence against women have been unveiled during the last ten years. Crimes like "honour killings", domestic violence, female genital mutilation, sexual torture and rape as a war crime have become subjects of public discussions and international campaigns. They influence the biographies of millions of women. The broad spectrum of domestic and institutional gender-based violence and discrimination poses a major risk of traumatic life experiences for women in all patriarchal societies. Still, many aspects of gender based and sexualised violence and especially their correlation with other forms of discrimination yet need to be examined closely in order to combat them effectively.

Against this background, women's rights organisations and the media have been paying attention to the situation of Kurdish women since the year 2000. Since then newspapers have reported surging suicide rates among women in the Kurdish province of Batman (Turkey), self-burnings by women in the Kurdish regions of Iraq and Iran, or repeated incidences of "honour killings", which threaten the lives of many Kurdish women in their homelands and in the places of migration. However, these spotlights cannot sufficiently explain the complex patterns of discrimination and forms of violence influencing the lives of Kurdish women. Patriarchal violence within "traditional" social structures is not the only form Kurdish women are confronted with. However, such violence can be as life threatening for Kurdish women as for women in any other patriarchal society. Cultural, national, economic and political oppression directed against the Kurds in Turkey, Iran, Iraq, and Syria has determined their lives over nearly four generations now...

On behalf of the International Free Women's Foundation
Ann-Kristin Kowarsch and Nursel Kilic