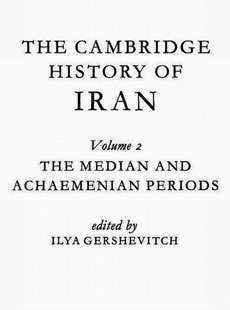 The Cambridge History of Iran - II

Ilya Gershevitch

Cambridge University Press

The Publishers wish to acknowledge the major contribution to the completion of this volume made by Mr Hubert Darke, who willingly undertook a wide range of editorial responsibilities to assist in its publication.

Thanks are also due to Mr Peter Khoroche for assistance with proofs; and to Mr Colin Ronan for help in the preparation of the astronomical diagrams in chapter 16. The index is by Mrs Hilda Pearson. The Publishers and the Editorial Board of the Cambridge History of Iran are grateful for a generous subvention towards editorial and production costs of this volume provided by the Foundation for Iranian Studies, Washington, D.C.

Acknowledgements are due to all who have provided and given permission to reproduce photographs and line drawings.