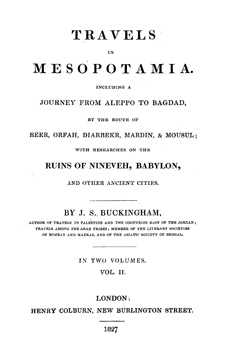 Travels in Mesopotamia -2-

J. S. Buckingham

Henry Colburn

Chapter I

From the plain of Sinjar, by Romoila, to Mousul

July 3d. We quitted our station on the plain, just as the moon was setting, and although we had now an additional escort of eighty well-armed and well-mounted men, our whole party did not exceed in number two hundred persons.

Soon after commencing our night-march, going in a direction of east-south-east, we passed over a deep ravine, filled with large basaltic masses, forming a vein in the earth, like the deep and winding bed of a torrent. The rest of our way was over desert ground, though the whole tract was capable of being rendered highly fertile, being covered with a good soil, and intersected by several small rivulets of water.

.....