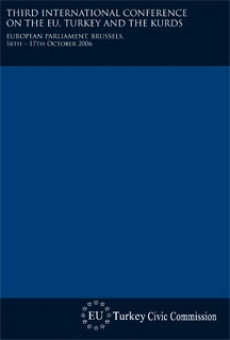 Editor's note

The third annual EU-Turkey Civic Commission (EUTCC) Conference was held on 16-17 October 2006 at the European Parliament in Brussels. Themed Time for Justice, Dialogue and Solution, the event was hosted by the founders of the EUTCC, namely, the Bar Human Rights Committee of England and Wales (UK); the Kurdish Human Rights Project (UK); medico international (Germany); and the Rafto Foundation (Norway), and was supported by members of the European Parliament.

This publication sets out the majority of the speeches and papers of the 2006 Conference, including the Final Resolutions; in this way it attempts to shed light on particular areas of concern for a successful accession process. A brief account of the background to the Conference can be found below; for a more comprehensive guide to the issues discussed, and related recent developments in Turkey, the Background Paper given to Conference delegates is included in this publication (Appendix I).

For the purposes of publication, the speeches reproduced here have been edited and in some cases abridged or translated. Where given, the title of each speech has been included. Fuller versions of these speeches are available on the EUTCC website at www.eutcc.org. Some speeches were not available in written form and so are not included. The speeches that have been omitted are listed at the start of each section.

The opinions expressed in this work do not necessarily represent the views of the EUTCC.