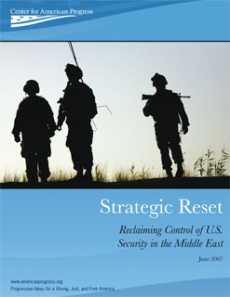 Strategic Reset: Reclaiming Control of U.S. Security in the Middle East

With the Iraq war well into its fifth year, the Bush administration still lacks a realistic plan for the Middle East and Iraq. The United States must reclaim control of its core national security interests by taking active steps to stabilize the entire Middle East and abandon the delusions at the heart of President Bush's policies. Otherwise, U.S. security will continue to suffer by weakening the U.S. military and draining resources away from destroying terrorist networks such as Al Qaeda.

The current Iraq strategy is exactly what Al Qaeda wants—the United States distracted and pinned down by Iraq's internal confl icts and trapped in a quagmire that has become the perfect rallying cry and recruitment tool for Al Qaeda. The United States has no good options given the strategic and tactical mistakes made on Iraq since 2002, but simply staying the course with an indefi nite military presence is not advancing U.S. interests...