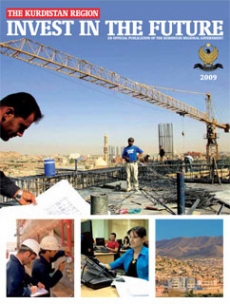 THE KURDISTAN REGION: INVEST IN THE FUTURE

I AM VERY pleased to welcome this publication, which is addressed to our friends, to the curious, and to the prospective investor. As I do so, the people of the Kurdistan Region and its political parties are preparing for the next regional elections in our vibrant democracy. I hope the people will participate in this election in large numbers and freely vote for those they believe are best capable of serving the people: 40 political entities have registered with the Electoral Commission.

In the popular uprising of March 1991, in the town of Koye, I promised the people of Kurdistan that we would have elections so that the people could freely elect their representatives. For us, having elections is a fundamental principle. Everyone in Kurdistan enjoys this freedom and we are proud ofwhat we have accomplished.

I have full faith in the people of the Kurdistan Region. I am confident our people know what is best for their future. I have urged the Independent Iraqi Electoral Commission to invite independent and international observers to monitor our forthcoming election so that no one can later question the results. I have also requested that the election of the President of the Kurdistan Region occur through a direct popular vote, and I have asked the Parliament to make preparations for this...

Masoud Barzani
President