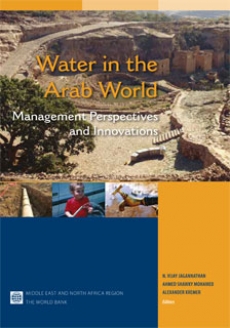 WATER IN THE ARAB WORLD: MANAGEMENT PERSPECTIVES AND INNOVATIONS
This book is the collective effort of the water team of the Middle East and North Africa (MNA) Region of the World Bank, which consists of staff members and consultants working on water issues in most countries of the Arab world and the Islamic Republic of Iran. The core team consisted of the three editors, N. Vijay Jagannathan (Sector Manager, Water), Ahmed Shawky Mohamed (Senior Water Resources Specialist), and Alexander Kremer (Senior Sector Economist), as well as Alicia Hetzner (Language Editor), and Georgine Seydi (Program Assistant).

Our debt of gratitude extends to a long list of colleagues in the MNA water team who have contributed chapters, often toiling long beyond their working hours and facing impossible deadlines imposed by the substance editors. Among the several consultants who have contributed, Chris Perry—who came up with the ABCDE approach, the organizing framework for the book's chapters—is gratefully acknowledged.

The team would like to express appreciation for the guidance and support received from three colleagues in the World Bank: Nadereh Chamlou and Omer Karasapan, who gave us helpful advice; and Juan Diego Rodriguez, whose support made the production of this book possible. In addition, the two peer reviewers, Shawki Barghouti (Director General of the International Center for Biosaline Agriculture, Dubai) and Rory O'Sullivan (Consultant to the Bank's working group on Embedded Knowledge), spent hours plowing through hundreds of pages of the various papers and giving very insightful comments and guidance to the team.

Finally, the team would like to thank Laszlo Lovei, Director of the Middle East and North Africa Sustainable Development Department, for his unwavering support and confidence, without which this enterprise could never have been completed in the timeframe required; and Nadir Mohammed, Operations Director of the MNA Region, for his encouragement to include this volume as a contribution to the region's Arab World Initiative.

The MNA Region gratefully acknowledges the generous cofinancing of this work by the Dutch government via the Bank-Netherlands Water Partnership Program (BNWPP).