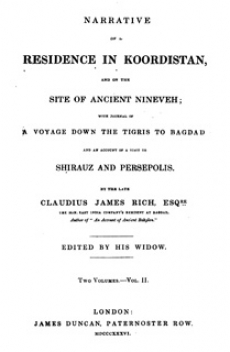 Narrative of a Residence in Koordistan
and on the Site of Ancienet Nineveh ;
with a journal of a Voyage Down The Tigris to Bagdad
and an account of a visit to Shirauz and Persepolis
October 21. We bade farewell with unfeigned sorrow to many friends, and mounting our horses at about half-past six in the morning, we quitted the garden of our estimable and kind friend the Pasha, and proceeded over an undulating country across the plain of Sulimania, passing on our left hand the large village of AkBoolak. The whole plain is higher on this than on the western side, and slopes down more than half way to the opposite hills. At about a mile and a half from Sulimania we reached the Tanjeroo or Sertchinar river, which we had passed on our journey from Bagdad...