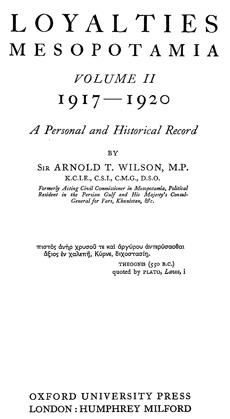 Loyalties Mesopotamia, volume 2

Arnold T. Wilson

Oxford University

Chapter I
Military operations in Mesopotamia from the death of General Maude until the armistice
(The English) Join the most resolute courage to the most cautious prudence; nor have they their equals in the art of ranging themselves in battle array, and fighting in order. If to so many military qualifications they knew how to join the arts of government; if they showed a concern for the circumstances of the husbandman, and of the gentleman; and exerted as much ingenuity and solicitude in relieving and easing the people of God, as they do in whatever concerns their military affairs, no nation in the world would be preferable to them, or prove worthier of command.'

Saiyid Ghulam Husain Khan, Seir Muta'akharin, II. 341, circa 1783: quoted (incorrectly) 6y Macaulay, Essay on Lord Clive.

General Marshall succeeds General Maude. Military Policy. Question of Arab cooperation. Occupation of Middle Euphrates. Operations on Euphrates. Occupation of Kirkuk. Sir Percy Cox leaves for England. Question of advance on Mosul. Operations on Tigris. The Armistice. Occupation of Mosul wilayat.

.....