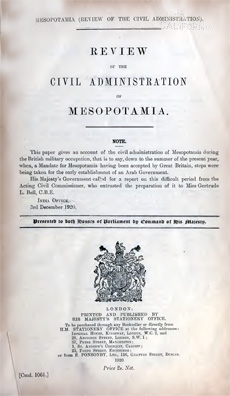 Review of the civil administration of Mesopotamia

Gertrude L. Bell

His Majesty's Stationery Office

In the spring of 1910, Ottoman rule in Mesopotamia was epitomised by a singularly competent observer, Mr. J. G. Lorimer, British Resident at Baghdad, in words which cannot be bettered. "The universal Turkish system of administration," he wrote in the Political Diary for the month of March, "is in almost every respect unsuitable to 'Iraq. "The Turks themselves must recognise that it is a failure here, but probablj' few of them appreciate the cause, though that is sufficiently obvious. 'Iraq is not an integral part of the Ottoman Empire, but a foreign dependency, very much in the rough ; and its government by sedentary officials according to minute regulations, framed at Constantinople for Western Turkey, can never be satisfactory. I had no idea before coming to Baghdad of the extent to which Turkey is a country of red tape and blind and dumb officialdom, nor of the degree in which the Turkish position in 'Iraq is ...