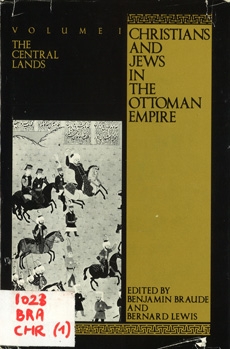 Christians and Jews in the Ottoman Empire
The Functioning of a Plural Society

Benjamin Braude
Bernard Lewis

Holmes & Meier Publishers

For hundreds of years the Ottomans ruled a territory of great ethnic and religious diversity. How did this vast empire stretching from the Balkans to the Sahara endure so long? The contributors to this two-volume work examine the political and social arrangements that made possible the effective functioning of a polyethnic, multireligious society for more than four hundred years.
Written by eminent scholars from the Middle East, Europe, and North America, these papers soberly and objectively weigh the fundamental question of religion and community in the Middle East. Among the topics explored are: the nature of contact between Muslims and non- Muslims; the organizations and institutions of Christians and Jews; the relations between communal leaders and the state; and the interaction between the West and non-Muslim peoples. Using heretofore neglected sources in Arabic, Turkish, Greek, Hebrew, and Armenian, these essays provide a vital background for students of the area and its three great religions, as well as for those interested in the problems of minorities in plural societies.

Benjamin Braude is assistant professor of history at Boston College and research associate of the Center for Middle Eastern Studies at Harvard University. Bernard Lewis is Cleveland E. Dodge Professor of Near Eastern Studies at Princeton and a long-term member of the Institute
for Advanced Studies.