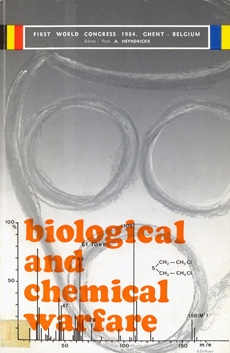 Biological and Chemical Warfare

A. Heyndrickx

University of Ghent

It is with my warmest congratulations to the State University of Ghent that I extend my appreciation to organize the First World Congress «New Compounds in Biological and Chemical Warfare: Toxicological Evaluation», which takes place these coming days.

Belgium has suffered a lot in the First World War of Chemical attacks on its soldiers and thousands died in the fight for their freedom with the Allied Forces.

This Conference on high scientific level and humanitarian grounds, away from all international political involvement is a light for humanity in its search to live free from any war.

The program that is submitted for the detection of those compounds, the diagnosis and the treatment of the patients is of such a great importance for humanity and for our future.

Belgium, on humanitarian grounds has always supported, in the Western World and internationally, all efforts ...