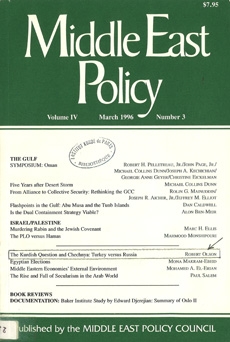 Middle East Policy, V – IV, N° 3
The Kurdish Question and Chechnya

Robert Olson

Middle East Policy Council

his article argues that the Kurdish problem in Turkey and Russia's war against Chechnya are linked more closely than is generally realized and acknowledged. I do not intend to discuss the entire gamut of Turkish-Russian relations which are multilayered and complex, but rather to investigate to what extent their relations are influenced by the Kurdish nationalist movement in Turkey and by that movement's relationship to the Kurdish nationalist movements in Iraq, Iran and Syria. I suggest also that Turkey's preoccupation with its war against the PKK (Partia Kakaren Kurdistan), the Kurdish nationalist guerrilla organization in Turkey, has greatly weakened Turkey's foreign-policy leverage with Russia, especially regarding its war against Chechnya. Russia in turn has used the "Kurdish" card to reduce effectively Turkey's ability to influence its policy toward Chechnya. This became especially clear in 1995.

Turkish-Russian relations grew considerably in the late 1980s, and by ...


---

Dr. Robert Olson is a member of the Department of History at the University of Kentucky in Lexington.