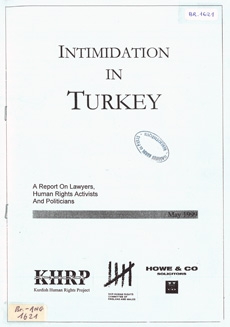 Intimidation in Turkey

Kurdish Human Rights Project

Compte d'auteur

This report is based on a series of interviews conducted by a legal delegation which visited Istanbul between 16th and 18th March 1999.
The delegation was organised by the Kurdish Human Rights Project (KHRP), the Bar Human Rights Committee of England and Wales (BHRC) and Howe & Co, solicitors.
Interviews were conducted with the Istanbul branch of the Human Rights Association of Turkey (IHD), the Foundation for Social Jurisprudence Research (TOHAV), the Istanbul Bar Association, representatives of the People's Democracy Party (HADEP), representatives of the Republican People's Party (CHP) and Ahmet Zeki Okcuoglu, who is a member of Abdullah Ocalan's legal team.1
This report was written by Antonia Mulvey and Simon Ridley, in collaboration with Edward Grieves and Rory Field.
By way of supplement, the report contains an extract ...