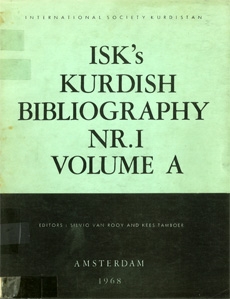 ISK's Kurdish Bibliography, Nr. I - A

Silvio van Rooy

International Society Kurdistan

For the study of whatever subject, a bibliography is an indispensable basic tool. Like in Kurdology in general, it were especially such tools, which are still lacking to an amazingly high degree.
The biggest bibliographical effort in the field has -so far- been made by Miss Z. S, Musaèlian and Mr.V.B. Portugal', under direction of Prof. Dr. Qanatê Kurdo.
Their "Bibliografija po Kurdovedeniju" (Moskva, 1963, Izd. Vost. Lit.) lists 2768 entries, about 1600 being Russian or Soviet. Especially for these categories, it was a priceless source, worth of the U.F.S.R.'s Kurdological reputation.
In the English-speaking orbit, Mr. C. J. Edmonds has two bibliographies of mainly Iraqi Kurdish material to his credit, another of his pioneering acts in this under-explored field.
With over nine-thousand entries, the present "Kurdish Bibliography Nr.I" is the largest one on the subject so far. Entries being taken from some fourty different languages, it is also ...