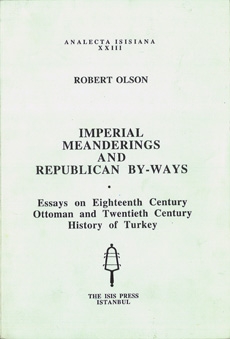 Imperial Meanderings and Republican By-Ways

Robert Olson

The Isis Press

I am delighted to present these twenty essays in the Isisiana Series. The seven articles in Part I deal with eighteenth century Ottoman topics. These essays are concerned particularly with the Tulip Period (Lille Devri), its consequences and the Ottoman-Iranian wars of the first half of the eighteenth century. Articles 1, 2 and 3 discuss aspects of the role of the Jews in the developments during this period, especially after the Patrona Halil rebellion in 1730. These three articles, along with article 1 in Part II which also deals with an aspect of Jewish-Young Turk relations, were attempts, at the time when I wrote them, to revise the then held views in the obtaining historiography.
The other four articles, nos. 4, 5, 6 and 7 are concerned ...
---
Robert Olson (b. 1940) received his B. S. Degree from Bemidji State College in 1958 and his M. A. (1967) and Ph. D. (1973) from Indiana University. He is the author of The Siege of Mosul and Ottoman-Persian Relations, 1718-1743: A Study of Rebellion in the Capital and War in the Provinces of the Ottoman Empire (Bloomington, IN: Indiana University Press, 1975); The Ba'th and Syria, 1947-1979: An Interpretative Historical Essay (Rome: The Middle East Institute: 1980); The Ba'th in Syria, 1947-1982: The Evolution of Ideology, Party and State from the French Withdrawal to the Era of Hafiz al-Asad (Princeton, NJ: The Kingston Press, 1983); The Emergence of Kurdish Nationalism and the Sheikh Said Rebellion, 1880-1925 (Austin: University of Texas Press, 1989); The Emergence of Kurdish Nationalism, 1880-1891 (paperback of above).
Dr. Olson is the editor of The Kurdish Nationalism Movement in the 1990s: Its Impact on Turkey and the Middle East (Lexington, KY: University Press of Kentucky, 1997); Islamic and Middle Eastern Societies (Brattleboro, VT; Amana Books, 1987); and co-editor of Iran: Essays on a Revolution in the Making (Lexington, KY: Mazda Press, 1981); Orientalism, Islam and Islamists (Brattleboro, VT: Amana Books, 1984).
Three of Professor Olson's books have been translated into Arabic and Turkish. He is the author of some 75 research articles and numerous essays on Middle Eastern topics. Dr. Olson teaches Middle East and Islamic History at the University of Kentucky in Lexington, Kentucky in the United States.