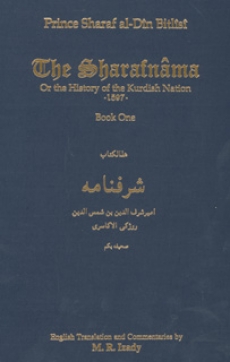 Acknowledgments

This project has been supported in part by a grant from the National Endowment for the Humanities (NEH), an independent Federal agency of the Government of the United States of America. I am deeply grateful for this generous financial support, without which this undertaking would not have been possible.

I also remain grateful for the generous and continuing financial support of an enlightened and generous contributor, who prefers to remain anonymous, towards the editorial work and the publishing expenses of this and other projects of mine. My gratitude also goes to Mr. Mohammed M. Ahmed, president of the Ahmed Foundation for Kurdish Studies, Sharon, Massachusetts, for his generous contribution that addressed the remaining financial needs for the publication of this work.

I would like to likewise acknowledge my eternal gratitude, now as ever, to my charming wife and companion, Miss. Anahid Akasheh, for her forbearance and uncommon understanding of the perils of sharing life with an academic.

My special appreciation should also go to my longtime friend and colleague, Professor Lawrence G. Potter, Deputy Director of the Gulf/2000 Project, and lecturer at the School of International and Public Affairs, Columbia University for his unceasing help whenever I need it, not just when it is convenient. In the same breath, I should extend similarly deep gratitude to colleagues, Professor Bradford McGuinn and Professor George Bournoutian, for their unqualified encouragement and friendship.

I am also grateful to all those who supported my grant requests for this project, including but not limited to, professors Jo-Ann Gross, Michael Gunter, Robert Olson, Wheeler Thackston and all others whose names remain unknown to me due to the privacy clause of the National Endowment for the Humanities. I am likewise grateful to Mr. Loghman Meho for his hard work in procuring copies of the manuscripts of the Sharafnama from as far afield as Pakistan. I also thank Dr. Abdullah Mardukh for his insightful initial comments.

Last, but by no means the least, is the acknowledgment of my gratitude to my editor, Ms. Andrea Modarres, for her hard work of editing a complicated text such as this with sound judgment and uncommon professional expertise.
M. R. Izady