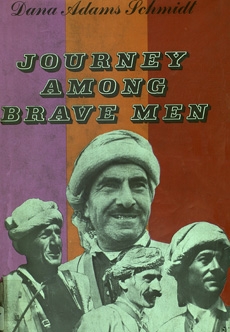 Journey among brave men

I want to express my special gratitude for the help I received in writing this book:

To Ahmed Tofiq, who was at the beginning of it, who organized my expedition to Kurdistan, and was my guide as far as Mullah Mustafa Barzani's headquarters;

To Apo Jomart, who was my interpreter and companion, and gave me my first insight into Kurdish history;

To Father Thomas Bois, the remarkable Dominican Father who has devoted a lifetime to the study of Kurds, and who supplied me with a wealth of materials on the history of the Kurds and their folklore, and who read large parts of the manuscript. I have made extensive use of his works, including Les Kurdes, Histoire, Sociologie, Littérature, Folklore;

To Shawkat Akrawi, one of Mullah Mustafa's representatives in the negotiations with the Iraqi government in Baghdad, who later became one of his representatives abroad, and who provided valuable assistance in compiling the political parts of the book; and

To Jelal Talabani, who combines the qualities of fighting leader and diplomatic representative of the Kurdish cause, and who gave me valuable guidance.

Particular valuable reference works have been, on the ancient history of the Kurds, Kurds and Kurdistan, by Arshak Safrastian, London, The Harvill Press, Ltd., 1948; and the classic work of C. J. Edmonds, Kurds, Turks and Arabs, London, Oxford University Press, 1957; and William Eagle-ton, Jr.'s The Kurdish Republic of 1946, London, Oxford University Press, 1963, which lighted up a little known episode in the history of the Kurds.