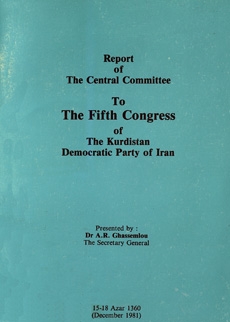 Report of the Central Comittee to
Fifth Congres of the KDP of Iran

A. R. Ghassemlou

Compte d'auteur

Honourable Guests, Militant Delegates to the Congress, Dear Comrades!

Allow me to welcome you on behalf of the Central Committee of the Democratic Party of Kurdistan-Iran and to wish you every happiness and success. In this Fifth Congress of our party, some of the best sons of the Kurdish people and the most devoted members of KDP are no longer among us. They are the honoured and eternal martyrs, who during the period between the Fourth and the Fifth Party Congress, sacrificed their lives for their cause, and joined the long caravan of the martyrs, on the path of freedom for Kurdistan and all of Iran.