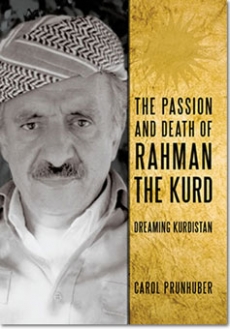 The Passion and Death of Rahman the Kurd: Dreaming Kurdistan
"Against the backdrop of the revolution that overthrew the Shah and through the shadowy back streets of the Cold War, Carol Prunhuber's Passion andDeath ofRahman the Kurd resurrects the doomed trajectory of assassinated Kurdish leader Abdul Rahman Ghassemlou. "A portrait against the grain: not a peshmerga with his bandolier, but a nationalist intellectual in a well-tailored suit turned movable target far from the Kurdish mountains. A Third World aristocrat who will quickly veer off the Marxist road from revolution to democracy.

"Professor of economics, bon vivant, and clandestine freedom fighter, Ghassemlou is tracked by the henchmen of the Shah only to be assassinated by the hit men of Ayatollah Khomeini's Islamic Republic. Prunhuber guides us, through an opaque world of ambiguous friendships, uncertain complicities, treachery, and open threats, from Tehran to Prague, from Paris to Vienna.

"This portrait is a political whodunit, a truer-than-life reenactment of a destiny, and a journey into a trap a trap implacably closing, until his execution in an anonymous apartment in Vienna in 1989.

"A page of history, too: abundant notes allow the reader to navigate with ease through the subtle maze of reheated hatreds and deceitful alliances that give the account all its authenticity."
Jean-Marc Illouz
senior foreign correspondent, France2 TV, News, Paris