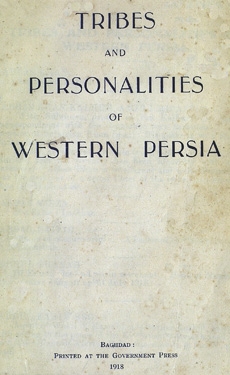 Tribes and Personalities of Western Persia

Government press

Compte d'auteur

'Abbas Khan
See Sardar Rashid
'Abbas Khan Kalhur, Amir i Mu'azzam

With Sulaiman, leader of the Kalhur, has been in correspondence with the Germans;' very turbulent. He is nephew of Sulaiman Khan (q.v.) His sister is wife of Salar Zafar, Sinjabi.

He has always been in close touch with 'Ah Akbar Jihan, Sinjabi, and till recently has been identified with enemy interests. 'Abbas Khan is intelligent and well-informed and has the makings of a better Chief of the tribe than his uncle.
Age (1918) about 20.

....