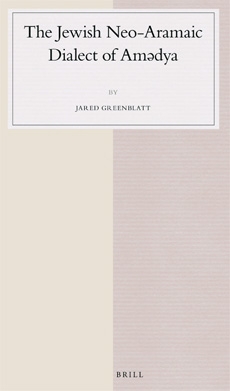 The Jewish Neo-Aramaic Dialect of Amәdya

Jared Greenblatt

Brill

The loss of a language represents...an irreparable loss for us all, the loss of opportunities to glimpse alternative ways of making sense of the human experience. (Mithun 1999: 2)

History and Dialectal Classification

The use of the blanket term "Neo-Aramaic" in itself, as well as the commonly accepted convention of writing about its so-called "dialects", may give the uninitiated reader the misguided impression that "Neo-Aramaic" is one, homogenous language. In fact, the name is used to refer to all those modern tongues which can be shown to have their origins in the Aramaic language of old.1 In actual fact, the major "dialects" of Neo-Aramaic are quite often mutually unintelligible, evenin cases of relative geographical proximity.

.....