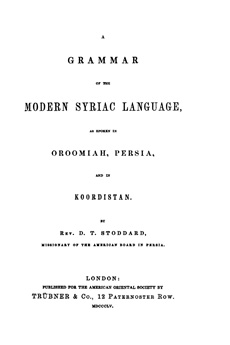 Modern syriac language

D. T. Stoddard

American Oriental Society

It is an interesting fact that, although the Nestorians of Persia have for many centuries been conquered and outnumbered, and have had very little share in civil affairs, and their brethren in the Koordish Mountains have enjoyed only a doubtful independence, they have preserved to the present time a knowledge of their vernacular language. In Persia, most of the Nestorians are indeed able to speak fluently the rude Tatar (Turkish) dialect used by the Mohammedans of this province, and those of the mountains are equally familiar with the language of the Koords. Still, they have a strong preference for their own tongue, and make it the constant and only medium of intercourse with each other. This is the more noticeable, as in modern times, until within a short period, they had no current literature, and the spoken dialect was not even reduced to writing. Their manuscript copies of the Bible and other books were very scarce, and were carefully hid out of sight, covered with dust and mildew. Very few, if any, except the clergy, aspired to be readers, and still fewer were able to read with any degree of intelligence.

The first attempt worthy of record to reduce the Modern Syriac to writing, was made by Rev. Justin Perkins, a Missionary of the American Board of Commissioners ...