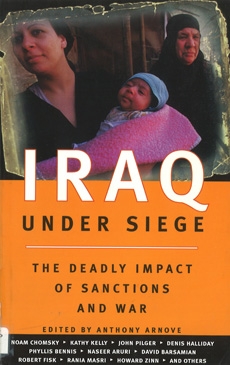 Iraq: Under Siege

Anthony Arnove

South End Press


'This remarkable book is an invaluable documentation of the tragedy in Iraq, and deserves reading by every citizen interested in the appalling reality of US and UK foreign policy.
Edward Said
'This book gives us a key to understand the New World Order, and warns about how Iraq's tragedy may be a model for global bullying and global impunity in coming times.
Eduardo Galeano, author. Open Veins of Latin America
In this moving new collection, leading voices against the sanctions document the human, environmental, and social toll of the United States-led war against Iraq, ending with concrete ideas on how people can help end the sanctions.
The last nine years of bombing and sanctions imposed on Iraq have claimed hundreds of thousands of lives, many of them children under five. Because the sanctions have prevented Iraq from importing basic necessities, easily preventable diseases have taken a devastating toll on the Iraqi people, while Saddam Hussein and his powerful friends remain unaffected.
Carefully documented, thoroughly researched, and written in clear language, Iraq Under Siege will be invaluable for anyone wanting to understand the roots of US policy in Iraq and the Middle East.