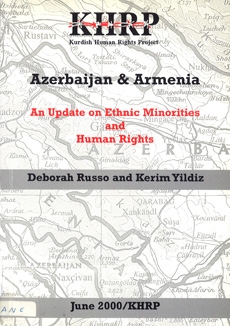 Azerbaijan & Armenia

Deborah Russo
Kerim Yildiz

KHRP

The Kurds of both Azerbaijan and Armenia wish for the following:
- the right to establish their own political parties and to have representation in Parliament;
- the right to return back to their homelands in the occupied territories of Nagorno Karabakh;
- the right to develop their cultural identity.


---

Deborah Russo is a law graduate with in-depth experience in the human rights field. She has been involved in casework on the European Convention on Human Rights.
Kerim Yildiz, as Executive Director of the KHRP, has extensively written on human rights, freedom of expression and National Security issues.