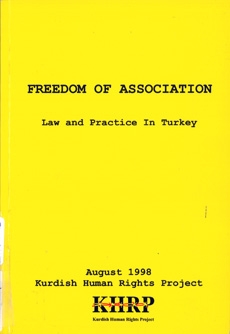 Freedom of Association Law and Practice in Turkey

KHRP

Compte d'auteur


Kurdish Human Rights Project
The Kurdish Human Rights project is an independent non-political project founded and based in Britain. The KHRP is a registered charity. It is committed to the protection of the human rights of all persons within the Kurdish areas, irrespective of race, religion, sex, political persuasion or other belief or opinion. Its supporters include both Kurdish and non-Kurdish people.
AIMS
To promote awareness of the situation of the Kurds in Iran, Iraq, Syria, Turkey and countries of the former Soviet Union. To bring an end to the violation of the rights of the Kurds in these countries and of Kurds and non-Kurds in predominantly Kurdish areas. To promote the protection of human rights of Kurdish people everywhere.
METHODS
Monitoring legislation including emergency legislation, and its application. Conducting investigations and producing reports on the human rights situation of Kurds in Iran, Iraq, Syria, Turkey, and in the countries of the former Soviet Union by, amongst other methods, sending trial observers and engaging in fact-finding missions. Using such reports to promote awareness of the plight of the Kurds on the part of committees established under human rights treaties to monitor compliance of states.
Using the reports to promote the awareness of the plight of the Kurds on the part of the European Parliament, the Parliamentary Assembly of the Council of Europe, the national parliamentary bodies and inter-governmental organisations including the United Nations.
Liasing with other independent human rights organisations working in the same field, and co-operating with lawyers, journalists and others concerned with human rights.
Assisting individuals with their applications before the European Commission and Court of Human Rights in Strasbourg,
Offering assistance to indigenous human rights groups and lawyers in the form of advice and training seminars on international human rights mechanisms.