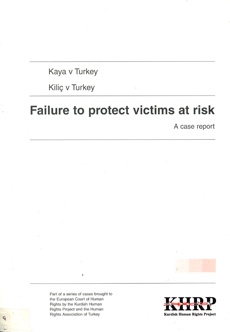 Kaya v Turkey & Kiliç v Turkey: Failure to protect victims at risk

Kurdish Human Rights Project

Compte d'auteur

The cases of Mahmut Kaya and Cemil KMq deal with the problems of 'disappearances' and killings that were prevalent in Southeast Turkey particularly during 1993 and 1994. In these two cases, the families concerned alleged that the security forces were either directly or indirectly responsible for the 'disappearance' and killing of their loved ones. In both cases the former European Commission of Human Rights held fact-finding hearings in Turkey (a feature of the Strasbourg system which has been very rarely used, other than in relation to the cases against Turkey since the mid-1990s).
The cases both concern violations of Article 2 of the Convention. Article 2 represents one of the most fundamental rights enshrined in the European Convention on Human Rights: the right to life. A number of obligations arise under Article 2. A State will be accused of violating the provision when it is proven beyond reasonable doubt that the fatality was caused by agents of the State. A further obligation arises in conjunction with the State's general duty under Article 1 of the Convention "to secure to everyone within [its] jurisdiction the rights and freedoms defined in [the] Convention", which implies both a duty to protect the right to life, and to carry out effective investigations of killings involving the use of force.
These cases are significant principally for two reasons. Firstly, the judgments of the European Court include an analysis of the legal system in Southeast Turkey, in the light of all available information including the Sasurluk Report6, and highlight the way in which the security forces in the region were often ...