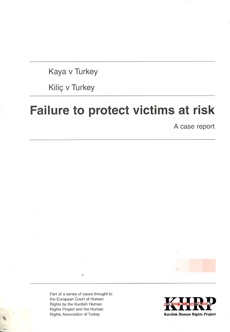 Tanrikulu v Turkey & Cakici v Turkey
Violations of the Right to Life

Kurdish Human Rights Project

Compte d'auteur

The cases of Tanrikulu v. Turkey and Cakici v. Turkey highlight the uncertainty and fear which characterise the south east area of Turkey today. Notwithstanding Turkey's candidacy to the European Union, human rights violations as brutal as disappearances, torture and killings during unacknowledged detention still occur although they are constantly denied by the Turkish authorities. Such human rights abuses are at the core of the Tanrikulu and Cakici cases.
It should be emphasised in this context that applications to the European Court of Human Rights represent a fallback mechanism. The Strasbourg machinery exists to supervise the action of Member States by exercising a power of review, leaving the primary responsibility for the protection of human rights to Member States. This may represent an adequate system of protection in those states where human rights abuses are not widespread or in countries where individuals have adequate access to the justice system. This is not the case however, in Turkey.
A series of authoritative UN, Council of Europe and NGO reports1 and widespread allegations about the practice of torture in Turkey make it evident that there are structural and legal limitations to the effective operation of the rule of law in the country. Accountability and safeguards in the exercise of power by the authorities represent the hallmark of an effective system of justice. The practice of torture in Turkey is not simply widespread; it seems to be institutionalised.
Positive developments within the ...