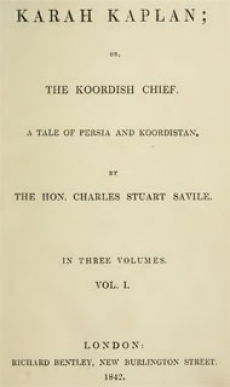 KARAH KAPLAN or THE KOORDISH CHIEF
A TALE OF PERSIA AND KOORDISTAN
VOL. 1
The morn had broken with all the delicious freshness peculiar to a Persian spring, upon the bazaars (l) of Hamadan,(2) which presented the bustling and crowded appearance usual in an oriental town at that hour. Many and various were the sounds audible throughout this division of the city: in one part reverberated the heavy strokes from the hammers of the armourers as they fell with loud clang upon the anvils; from another rose the buzzing noise proceeding from the looms of the weavers and the bows of the cotton pickers, while at the same time the overpowering din was increased by the jingling of the bells attached to the necks of the camels and mules that were threading the bazars in long strings, and the shrill cries of the muleteers, uttered both as warnings to the crowd, and a spur to the animals to quicken their speed....