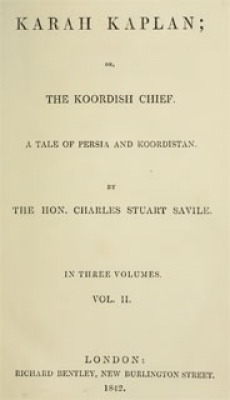 KARAH KAPLAN or THE KOORDISH CHIEF
A TALE OF PERSIA AND KOORDISTAN
VOL. 2

It was nearly midnight, and a solemn stillness reigned throughout the camp, only broken by the tread of those sentinels, whom sleep had not surprised upon their posts, and by the baying of the dogs, that invariably infest a Persian camp. The moon having long since set, a gloomy darkness wrapped all around in its folds, save where the dim light of a solitary lamp might be seen through the can...