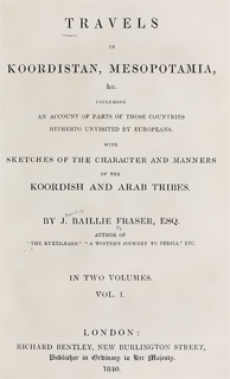 TRAVELS IN KOORDISTAN AND MESOPOTAMIA
LETTER I.

Causes of protracted stay at Tabreez.—Healthy climate of that place.—Its environs and aspect.—Gardens.—Fruit.—Yeilaks.—
Prosperity.—Causes of.— Trade.— Mahomed Meerza.— His court.—Causes of its dulness.—The Kaymookâm.—His character and power.—Visit to the Prince Royal.—Summary castigation.
Tabreez, 4th October 1834.
Dear ,
I need scarcely apologize for the comparative length of time that has elapsed between the dates of my last and present letter, nor for the conciseness of the former communication. You well know the lassitude which succeeds any long sustained effort of body or mind ; and, in my case, both were so jaded by the time I reached this place, that for many days I could do little but enjoy the repose which it afforded me, and the social comforts to which the soul, like a long bent bow, flew back with double zest. I revelled in the full sense of liberty and security, and rejoiced in the kindness and hospitality of the many friends who were gathered here together. Our days now flow on in peace, undisturbed by many causes of excitement, although some such do occasionally occur—and, like the seaman fresh from a voyage of hardship and a dangerous shipwreck, I luxuriate in this quiet though passive enjoyment, and shrink a little from the approaching necessity of once more getting into action. My horses, poor brutes, I have no doubt do more than participate in these sedentary tastes, as they are, in fact, the great cause of so long an indulgence ; for until they get into something like condition, their master cannot move. Nor are my servants, worn out with the Ghilanee fever, a bit more desirous to disturb the repose they enjoy, than the master they serve, or the beasts they tend...