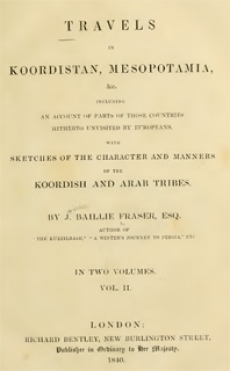 TRAVELS IN KOORDISTAN AND MESOPOTAMIA

LETTER I.
Leave Baghdad.—Seleucia.—Ctesiphon.—Arab Sheikhs.—Tauke-Kesra.—Cross the Jezreerah to Mahâwil.—Ancient Sites.—Wandering in the Dark.—Principal Ruins of Babylon.—The Mujellibeh.—View from its Summit.—El-Kasr.—Hill of Amrân. —Hillah.—The Euphrates.—Impressions of the Day.—An Arab Friend.—Pilgrim Servants.
Hillâh, or Old Babylon, 28th December.
Here we are, dear ------, once more in motion, thank Heaven ! and on our intended route. On the 22nd everything was in readiness ; but we were detained chiefly by a high southerly wind, which raised such a surge in the river that they have been obliged, as on all similar occasions, to open the bridge of crazy boats, lest they should sink and the fabric be destroyed. We tried to get the horses over in gooilahs, but they would not look at the clumsy conveyances, so that we were forced to endure the delay. On the 23rd, our patience was similarly tried : the wind blew a perfect gale, so that we were forced to content ourselves with our comfortable quarters at Colonel Taylor's...