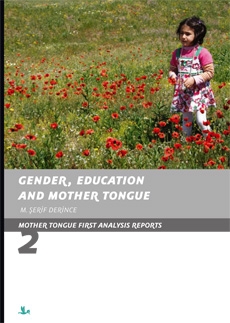 Gender, education and mother tongue

M. Şerif Derince

Disa

This report suggests that when we reflect on the education of Kurdish girls in Turkey and the inequalities that they encounter, we should take into consideration the issue of mother tongue and of official language policies as well. Efforts in this area are of great importance in terms of understanding the educational experiences and needs of Kurdish children, especially girls. As shown by the research, understanding the experiences that discriminated communities are facing constitutes one of the main steps towards demanding and developing an educational system that will be to the advantage of the communities that experience discrimination. Unless this is done, suggestions and changes generally do nothing more than result in more inequality and the reproduction of standards that only elite groups are able to meet.

From such a starting point, this report first explains the links between gender, education and mother tongue in terms of nation-state policies. Then it provides a brief overview of different approaches to gender and education. Subsequently, it examines campaigns and projects pertaining to gender and education carried out in Turkey. Finally, this report evaluates the situation from a Kurdish perspective and makes a number of recommendations.

This report advocates that the implementation of a gender conscious, mother tongue-based multilingual education is key to achieving an all-inclusive educational system and eliminating gender-based inequalities and discrimination.
---

M. Şerif Derince teaches Kurdish at Sabanci University and Boğaziçi University and continues his PHD in sociology at Mimar Sinan University. He is one of the three authors of the scar of tongue report published by DISA and wrote the field work section of the book. He is also coordinating the "raising awareness on mother tongue and bilingualism in education" which this paper is a part of. Within the scope of "raising awareness on mother tongue and bilingualism in education" he has organized the preparation of six bilingual leaflets in Kurdish and Turkish and has writ ten a report on Multilingual education models entitled "mother tongue based Multilingual and multi-dialectal dynamic education," Suggesting possible mother-tongue based education models to be used in the education of Kurdish students in turkey with different characteristics and needs. Completing his undergraduate and graduate studies in the language education department of Boğaziçi University, Derince has writ ten papers on issues related to Kurdish language, mother tongue, education and literacy for various journals and newspapers.