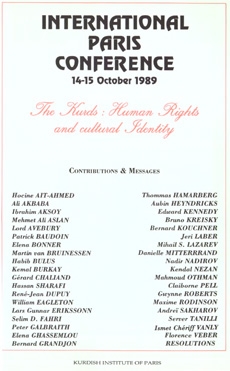 International Paris Conference
14-15 October 1989

The Kurds : Human Rights and cultural Identity

"The tragic fight of the Kurdish people, which has lasted for such a long time, has its origins in the principle right of every population to auto, determination. This is why it is a righteous fight.

I call upon all governments, organisations and citizens of all countries as well as the international organisations to become aware; in their relations with the countries where Kurds live, they should become aware of the real politics conducted by the leaders of these countries and their politics concerning the Kurds . No manifestation of cruelty, no national or social injustice, no inpinging on human rights and no genocide should go unnoticed. Neither should it remain without consequence for those countries allowing these actions."
Andreï SAKHAROV