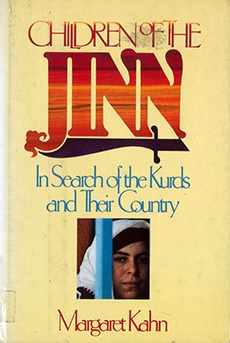 Children of the Jinn

Margaret Kahn

Seaview Books

Straddling the boundaries of Iran, Iraq, Turkey, and the Soviet Union, Kurdistan is a nation without a government, a country without an official language, borders, or flag. But Kurdistan has existed for centuries as the spiritual as well as the geographic home of millions.
The Kurdish people form an ethnic nationality whose unique language and culture have survived despite relentless suppression by host countries. Different from the other peoples of the Middle East, the Kurds are devout Sunni Moslems whose women, garbed in brilliantly colored clothes, go unveiled. They are fierce defenders of Kurdish independence, but kind and hospitable hosts and neighbors.
Traveling to Iranian Kurdistan in 1974 to study the Kurdish language, Margaret Kahn and her husband took jobs teaching English in Rezaiyeh, a northwestern city. Since Kurdish was officially outlawed in Iran, Kahn's task turned into a frustrating maze of false leads and suspicious silences as she attempted to make contact with the Kurds. Slowly breaking through the barriers of language, custom, and politics, Kahn "discovered" Kurdistan and a people clinging firmly to their heritage as well as their undying dream of independence.
Unlike the Turks and Persians of Rezaiyeh, the women of Kurdistan warmly welcomed the author. Their rainbow-hued dresses shone among the dour black chadors of other Muslim women and their earthy humor contrasted with the primness of urban Iranian women. One of the few Western women to write about the Kurds, Kahn provides a fascinating look at the role of women as members of harems and as food providers in subsistence-level villages.
Through anecdotes, history, and original insights, Margaret Kahn paints a vivid portrait of the Kurds from their historical origins to the contemporary conflicts inherent in technology, feminism, and urban life. As timely as today's headlines, Children of the Jinn explains how a persecuted, indomitable people survive in one of the most volatile regions of the world.

Margaret Kahn received her Ph. D. in 1976 having written a dissertation on the Kurdish language. She has taught English and linguistics in universities in the United States as well as in Iran and Egypt. Author of the entry on Kurds in the Harvard Encyclopedia of American Ethnic Groups, Ms. Kahn lives in California with her husband and daughter.