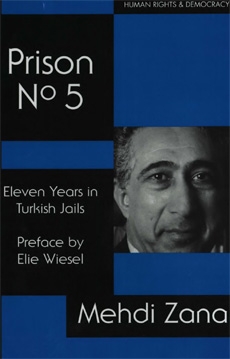 Prison No 5
Eleven Years in Turkish Jails
A prominent figure in the Kurdish community, former mayor of Diyarbakir—principal Kurdish town in Turkey, Mehdi Zana has always pursued a conciliatory approach to the resolution of the Kurdish question. In a statement to the European Parliament in 1992 he said, "Like all the Kurds sentenced for the 'crime of separatism' I have been stripped of my political rights for life ... I should, perhaps, make it clear that while I continue to campaign peacefully for the recognition of the rights of the 15 million (Kurds living in Turkey, I am riot port of any party or movement." This is his account of the dreadful terror of prison life with o preface by Elie Wiesel and a postscript by Kendal Nezan.
Overwhelming on o political scale and humanly intolerable, this desperate and appalling testimony of the Kurdish leader Mehdi Zana is especially so when it discusses the recent history of the 1970s and the 1980s... Solitary confinement, guards insults, the obligation ro solute the captains dog, the bearings, the sleep deprivation, the falaka, the fainting, the trampling, the electrodes attached to genitals, German shepherds trollied ro bite the private ports of naked prisoners. How does one understand? How can we explain the institutionalization of these brutalities, this humiliation, this dehumanization? Elie Wiesel
After serving eleven years in the notorious military prison in Diyarbakir, Mehdi Zana was released in 1991 following a conditional amnesty, only ro be sentenced again in 1994 to four more years and in 1997 ro ten more months of imprisonment for his testimony to the European Parliament Human Rights Sub-Committee and for publishing a poetry book, respectively. Mehdi Zana's wife, Leyla Zana-a Noble Peace Prize candidate and winner of Sakharov Prize for Freedom—is one of the six Kurdish deputies in Turkey who were charged with "separatism," stripped of their parliamentary immunity, and arrested in March 1994. She is currently serving a 15-year prison sentence in Ankara Prison.