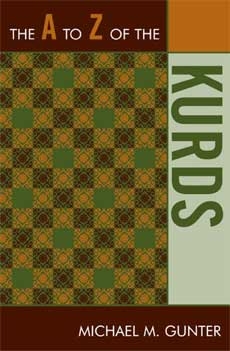 The A to Z of the Kurds
The A to Z Guide Series, No. 35
Although a large majority within the mountainous Middle East where Turkey, Iran, Iraq, and Syria meet, the Kurds have been gerrymandered into being mere minorities within the existing states they inhabit. The desire of many Kurds for statehood, or at least cultural autonomy within the states they now inhabit, has led to an almost continuous series of Kurdish revolts since the creation of the modern Middle East following World War I and constitutes the Kurdish problem or question.

The 25–28 million Kurds form the largest nation in the world without its own independent state. Since the end of the Gulf War in 1991 and the creation of a de facto state of Kurdistan in northern Iraq, the Kurdish problem has become increasingly important in Middle Eastern and even international politics. Turkey's application for admission to the European Union (EU) has also served to make the Kurdish issue more significant. If the Arab–Israeli dispute slowly winds down, the Kurdish issue will bid to replace it as the leading factor of instability in the geostrategically important Middle East. Furthermore, since the Kurds sit on a great deal of the Middle East's oil and possibly evenmore- important water resources, the Kurdish issue will become even more important in the new century.