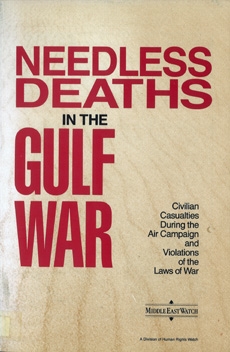 Needless Deaths in the Gulf War

Middle East Watch

Human Rights Watch

Commanders of the allied bombing campaign of Iraq have sought to convey the impression that they took scrupulous care to avoid civilian casualties. While noting that some loss of civilian life is unavoidable in armed conflict, allied commanders have suggested that they took every feasible step to avoid civilian death and injury, as required by the laws of war. This report challenges that excessively rosy picture. Its conclusions are based on scores of interviews conducted during the war with those who fled the bombing, as well as substantial subsequent research and analysis. Middle East Watch concludes that while the allies avoided systematic violations of the laws of war, hundreds of Iraqi civilians died as a result of several allied decisions to take less than the maximum feasible precautions to avoid civilian casualties, as required by the laws of war.

"The report also examines the Iraqi missile attacks on Israel and Saudi Arabia. Most of these attacks are found to have violated the laws of war by targeting civilians or by being fired into areas where the missiles were not technologically capable of distinguishing between civilian and military targets. Some of these attacks also violated the laws of war because they were accompanied by rhetoric designed to terrorize the civilian population of those countries.

Middle East Watch hopes that the analysis presented in this report will spark a critical examination of both allied and Iraqi conduct of the air war with the aim of reducing avoidable civilian casualties in any future conflict.