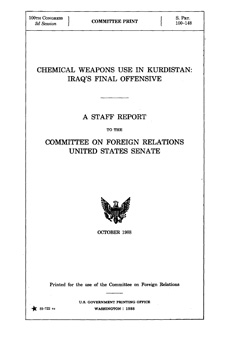 Chemical weapons use in Kurdistan : Iraq's final offensive

U. S. Senate

U. S. G. P. O.

The Honorable Claiborne Pell,

Chairman, Committee on Foreign Relations, U.S. Senate, Washington, DC 20510

Dear Mr. Chairman: At your direction, we traveled to Turkey from September 11-17 to assess the situation in Iraqi Kurdistan. This mission followed the sudden influx of more than 65,000 Iraqi Kurds into southeastern Turkey and extensive reporting that Iraq was using chemical weapons on its Kurdish population.

We spent 4 days in southeastern Turkey, traveling along that country's border with Iraq. We visited every major encampment of Kurdish refugees in the region and spoke with several hundred witnesses to the events inside Iraqi Kurdistan.