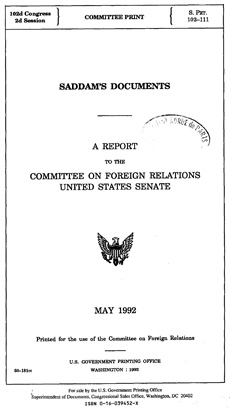 Saddam's documents

U. S. Senate

U. S. G. P. O

Letter of transmittal

May 21, 1992.

The Hon. Claiborne Pell,
Chairman, Committee on Foreign Relations,
Washington, DC 20510

Dear Mr. Chairman: At your direction, I travelled to Iraqi Kurdistan between April 16 and 27. The purpose of my trip was to examine and retrieve captured Iraqi secret police documents. These documents detail extensive atrocities committed against the Kurdish population of northern Iraq, including torture, destruction of villages and cities, and mass murder.
Together with the testimony of survivors and the physical evidence of destruction, the captured documents support a charge that Iraq's policy in Kurdistan constituted crimes against humanity and genocide.
.....