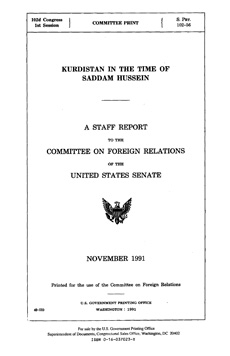 Kurdistan in the Time of Saddam Hussein

U. S. Senate

U. S. G. P. O.

The Honorable Claiborne Pell,
Chairman, Committee on Foreign Relations,
U.S. Senate, Washington, DC 20510

Dear Mr. Chairman: Six months ago the fate of Iraq's Kurds was placed on the international agenda as a result of the immense human suffering following the failure of their rebellion against Saddam Hussein. International intervention helped prevent a greater catastrophe, but the people of Iraqi Kurdistan remain at grave risk. At your direction, I returned to Iraqi Kurdistan in September to assess the situation.

Between September 4 and 11, 1991, I traveled throughout the Kurdish-controlled parts of Iraq. The liberated territory now comprises more than 80 percent of the Kurdish inhabited lands, and I went as far south as Halabja, as far east as Haj Omran on the Iranian border, north to the triangle where the borders of Iran and Turkey converge, and, in the west, to Amadiyah, Dihok, and Zakho where the Syrian and Turkish borders meet...