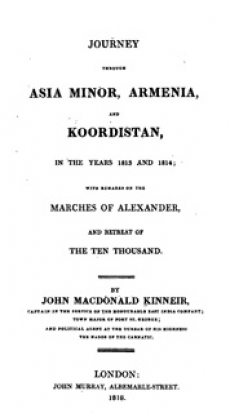 JOURNEY THROUGH ASIA MINOR, ARMENIA, AND KOORDISTAN
The only object I have in view in offering this desultory book of Travels to the public is to contribute as much as lies in my power towards the general stock ofgeographical knowledge, and I presume to hope than an account of my researches may not prove altogether uninteresting.
I embarked at Harwich for Gottenbuig, at the commencement of the year 1813, in company with Sir Neil (then Colonel) Campbell, intending to proceed through Sweden and Russia to Constantinople. But the disastrous retreat of Napoleon from Moscow having in the mean time opened a more direct road, I joined the head quarters of his Majesty the Emperor Alexander, then in pursuit of the French, and from Dresden resumed my journey to Turkey by Vienna.