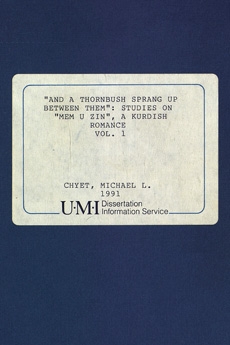 Studies on "Mem û Zîn", a Kurdish romance - I

Michael Lewisohn Chyet

UMI

This study is based on a corpus of eighteen oral versions of of the Kurdish romance Mem û Zîn, a tragic love story reminiscent of Romeo and Juliet which is very widespread in Northern Kurdistan. All eighteen versions, which constitute the appendix, have been translated into English, complete with notes explaining cultural concepts and linguistic niceties.

The eighteen versions of Mem û Zîn are subjected to a series of comparative folklonstic analyses. Chapter One consists of an introduction to the Kurds, their language and folklore, together with a brief summary of the story of M&Z. This is followed by a cntical bibliographic survey of the literature that has been published about the oral versions of M&Z and Ehmedê Xanî's literary poem by the same name, including also references for the general study of Kurdish folklore. The analysis of M&Z begins with the second section of Chapter One, in which the proverbial nature of the romance, as seen in certain expressions that are denved from it, is investigated.

.....