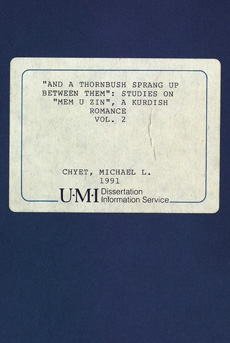 Studies on "Mem û Zîn", a Kurdish romance - II

Michael Lewisohn Chyet

UMI

Collected by gym and Socin in May 1869 in Damascus, Syria, from Jano (" Dschano-), a Jacobite Christian who had migrated to Damascus three months earlier with a group of his compatriots from the town of Midyat ("Midhjat") in the region of Tûr `Abdin, in what is today in the province of Mardin in Kurdistan of Turkey. A plague of locusts which befell Midyat for six consecutive years forced Jano's people to leave their homes. Although in Midyat he worked his own piece of land, in Damascus Jano was reduced to being a simple handyman. He could neither read nor write, but was endowed with the wonderful memory peculiar to the illiterate; he also had good common sense and was a quick learner.

.....