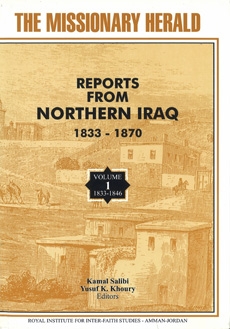 The Missionary Herald Reports From Northern Iraq (1833-1870), n° 1

Kamal Salibi,
Yusuf K. Khoury

Royal Institute for Inter-Faith Studies

Messrs. [Eli] Smith and [H.] Dwight spent a week among the Nestorians of Oroomiah, one of the western districts of Persia; and to them the week appears to have been the most satisfactory and interesting to their whole tour. For an account of this people, the Board is referred to the volumes of their researches, now in the press. While the Nestorians as much need religious instruction as any of the oriental sects, there is strong reason to believe that a mission would encounter fewer obstacles among them, than in any other of the old churches of the East. Their views of open communion, and their liberality towards other sects, are without a parallel in that part of the world, and they entirely reject auricular confession. The Committee look towards this promising field with a strong desire to establish a mission there as soon as the suitable men are found willing to encounter the necessary privations and exposures.

.....