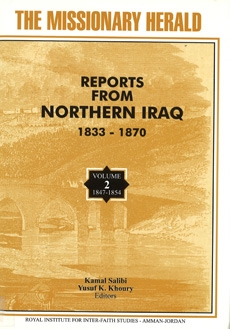 The Missionary Herald Reports From Northern Iraq (1833-1870), n°2

Kamal Salibi,
Yusuf K. Khoury

Royal Institute for Inter-Faith Studies

Oroomiah. — Justin Perkins. D. D, William R. Stoking, Austin H. Wright, M. D., David T. Stoddard. Missionaries; Edward Breath, Printer; Mrs. Perkins, Mrs. Stocking, Mrs. Wright, Mrs. Stoddard, Miss Fidelia Fisk.— Eleven native helpers, four of them preachers.

(1 station; 4 missionaries,— one a physician,— 1 printer, 5 female assistant missionaries, and 11 native helpers; — total, 21).

The history of this mission, during the year now under review, admonishes us not to be easily discouraged. The year preceding the last was one of apprehension and sadness at Oroomiah. Powerful influences from without and from within combined to embarrass and, if possible, destroy the mission; nor was it easy to foresee in what way the arm of the Lord would bring deliverance.

The past year, however, has been one of Signal spiritual blessings. An outpouring of the Holy Spirit, reviving religion among the ...